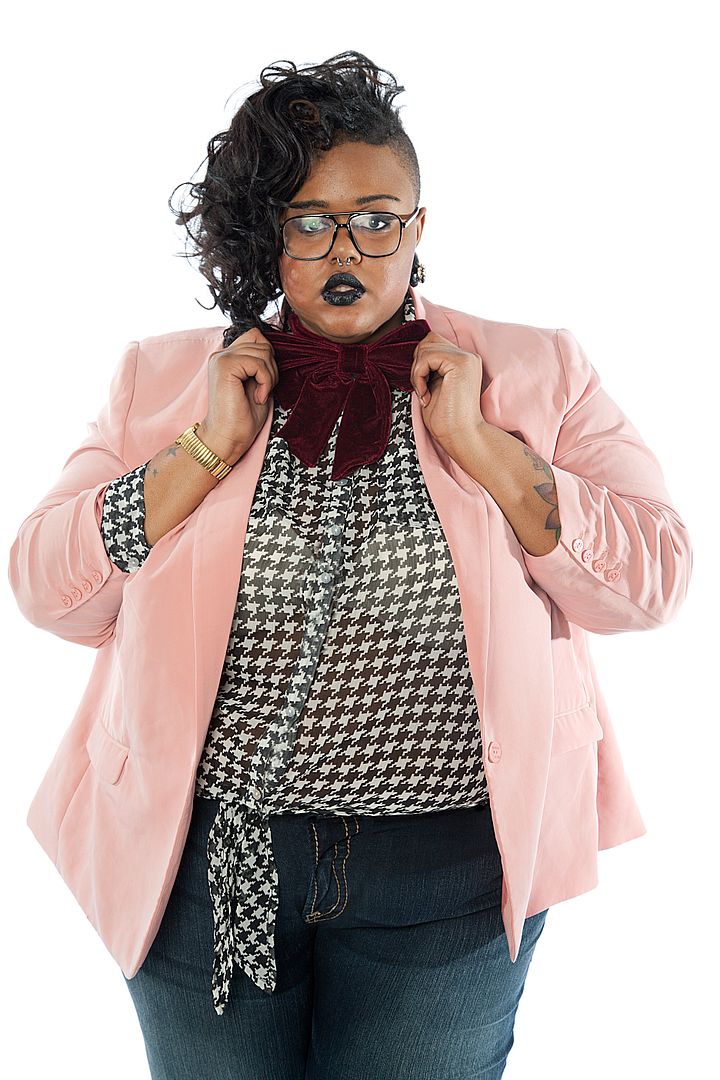 Blazer: Collection by One Stop Plus/Top:Avenue/Bow:Top Shop/Watch: Joan Rivers via QVC/Jeans:Suki Capri courtesy of Silver Jeans(altered at the ends for fit)/Creepers: T.U.K via Ebay/Bag:via Ebay
Today marks the beginning of a 3 post series in conjunction with
Silver Jeans Co
. For the next 3 days I will be showing you different spring looks that incorporate a variety of cuts and styles from Silver. These look are also apart of blogger style wars with Christina of
Love Brown Sugar
and Chase of
Sample Size Sixteen
. The winner will be featured on Silver Jeans website, so head over to the
Silver Jeans Co. Facebook page
and let them know you liked my look! I thought I'd start the week off with a bang and post the most fun look as well as my favorite.
This outfit incorporates great textures and patterns like hounds-tooth, velvet and denim with darker elements like dark lips and creepers. I love how versatile the jeans are. Here I have them rolled down for more of a cropped look, but they can be cuffed for capris if you prefer. If I had valentine this also what I would wear out for Valentines day.
Silver Jeans Co. Denim runs in the $80 -100 range and can be purchased at their website, Torrid, and Macy's. However today I will be giving one lucky winner the chance to win the pair of jeans of their choice. Just leave your email address and how you follow Fat Shopaholic along with your regular comment. For an extra entry please
VOTE FOR ME
by clicking 'like' and leaving a comment on my post
here
. This giveaway ends Monday, February 13th.