This is what I wore on Thanksgiving. The Blazer and the shoes have been mine since high school. I love the blazer, but in the 3 or 4 years that I've owned it I haven't worn it a lot. I always struggle to find a way to style it that doesn't look "Smart" or "Preppy". I've had this lace dress since the launch of Asos Curve. I haven't worn it a lot either because I didn't want it to look to "Girly" I finally brought both pieces together and I love the out come.
I have had so much trouble finding tights that fit me properly and don't break in the thigh after one wearing, so when
Tights Please
offered to send me these tights I hopped at chance to try them out. So far I have worn these 4 or 5 times and I have yet to experience any rips or runs in the tights. I like the weight of the material as well; they're thick enough for a Chicago winter for sure without being to thick. They don't have a lot of colors to choose from in the
Cette Dublin Plus Size
style that I was asked to review, but there are some purples and blues as well as basic colors. I asked for the black, the purple black, and the storm. The black is opaque and true to color, while I found that the purple black did have hints of purple and black the color is not the same deep purple shown on the swatch on the product page. I haven't received the storm yet, so I can't judge the color there. In terms of sizing according to the packaging these only are suppose to fit folks up to around 250 pounds, but I found that although I'm bigger then that they fit fine. I do wish that larger sizes were added to line though. Also, on the website the size guides only describes sizing using hip and height; I wish they added the weight chart on the back of the package as well.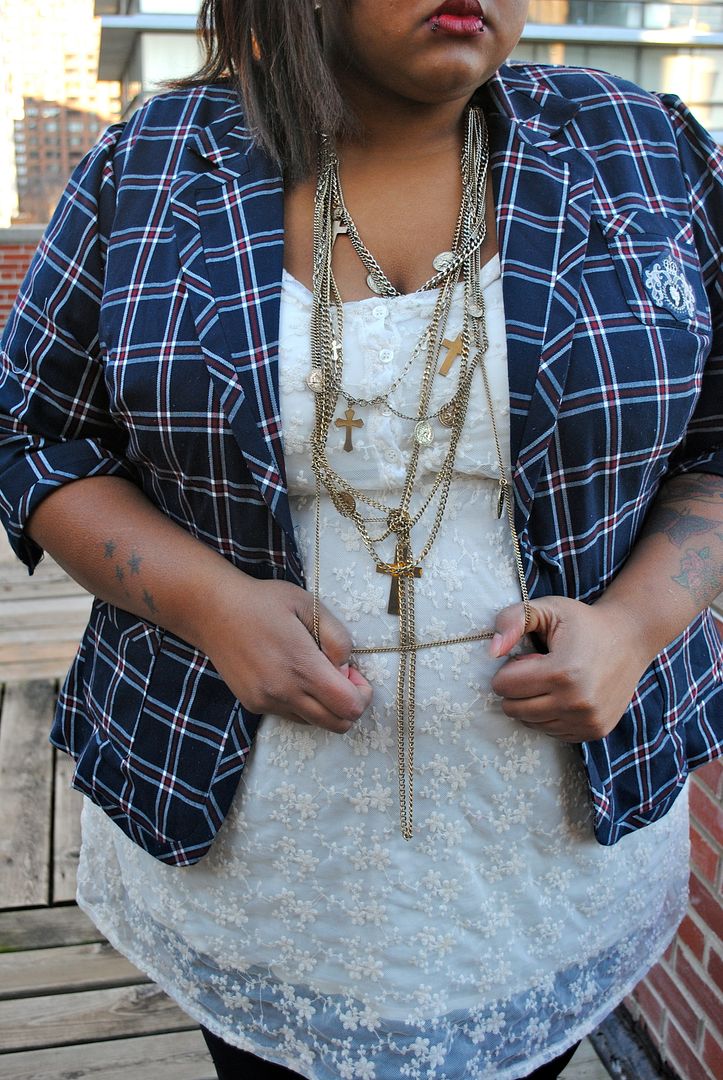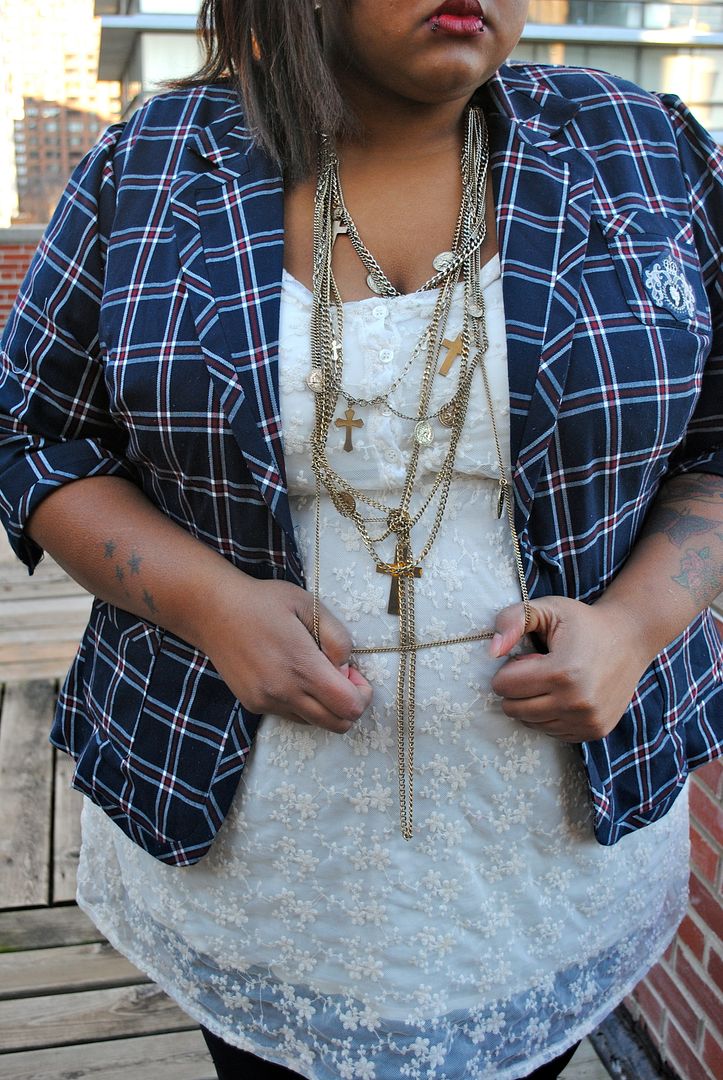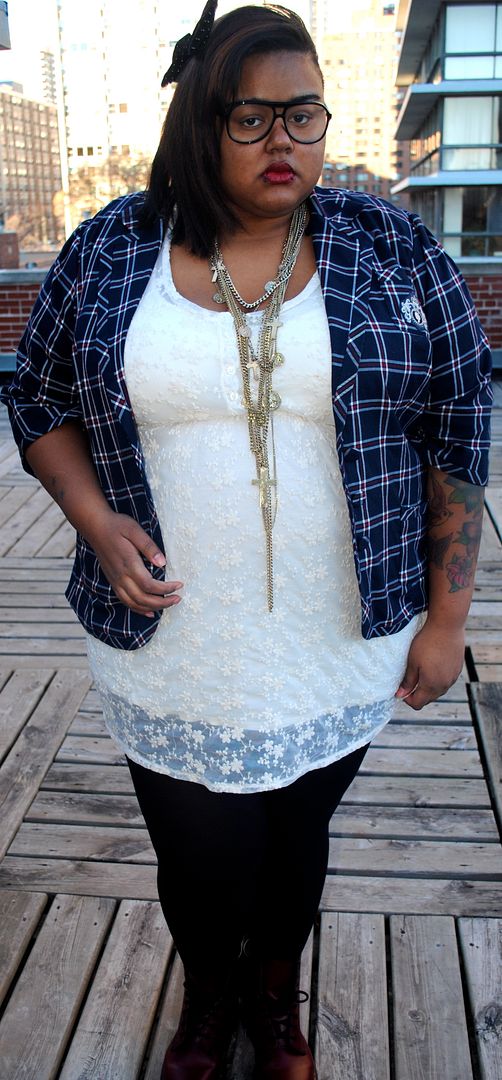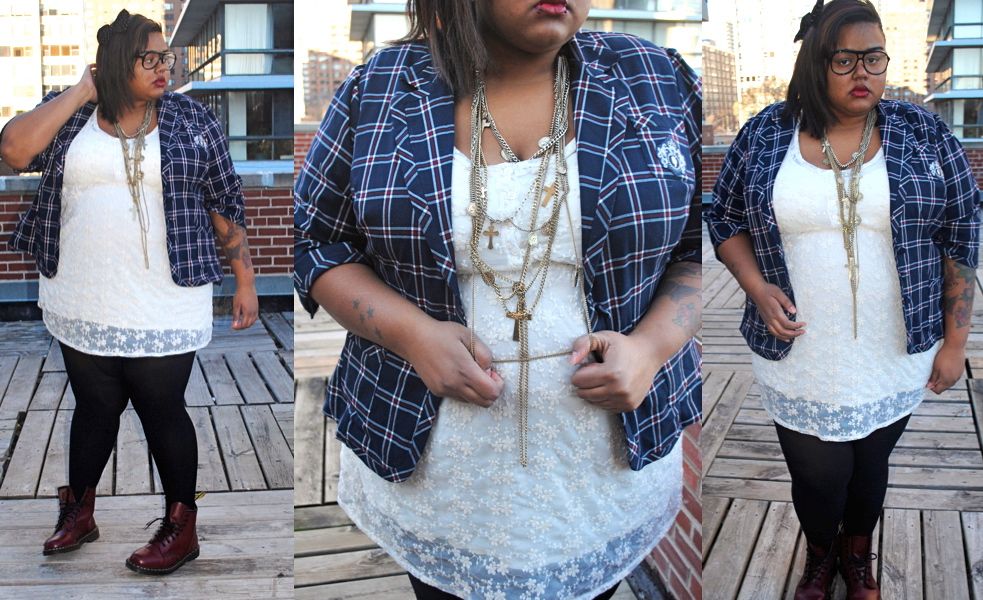 I love this red lipstick. It's Passion Red by Sephora. It was my sisters, but I liked it so much I brought my won on Friday. Speaking of Friday I will be posting on my black Friday scores soon.
Outfit Stats
Blazer - Torrid
Dress - Asos Curve
Necklace - Forever 21
Bow - Alice Takes a Trip
Shoes - Doc Marten