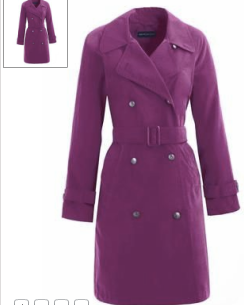 One of the pains of living in the midwest is the in-between weather we get in April and May. It's hard to know what kind of jacket to wear when it's hot at the start of the day, but cool by sun down. I think trench coats are perfect for that. They look great with skirts or pants and have a easy lightweight feel for those windy days or cool nights.
Women's plus size clothing
store
JD Williams
has some great classic trench coat options and some more colorful ones as well. I have included pictures of my favorites below. Are you wearing trench coats this spring?